Introducing Reportapalooza's
New Headline Act
These rising reporting artists are putting our experts to the test. Check out their entries for "Dashboards by Request".
Congratulations Gabe O. The crowd gave your StogiePedia dashboard a standing ovation and you'll now be rockin' a 30GB Zune MP3 player.
Click to view Gabe's StogiePedia dashboard


Runners Up
Chris' English Football Overview


Joshua's UFO Tracker


INSTRUMENTS OF CHOICE
SAP Crystal Reports Dashboard Design package displays your business data in a visually engaging way – so you can answer operational and planning questions at-a-glance.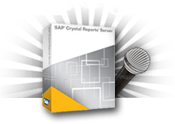 BEHIND THE REPORTS WEBCAST
Get tips and tricks from the Reportapalooza experts


BECOME A FAN
Follow SAP Crystal solutions on: